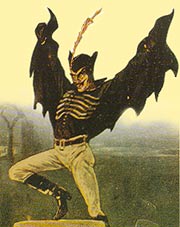 Spring Heeled Jack is a cryptid that was sighted in England.
The first accounts of Spring Heeled Jack were made in London in 1837 and the last reported sighting is said in most of the secondary literature to have been made in Liverpool in 1904.The first report of Jack was from a businessman returning home late one night from work, who told of being suddenly shocked as a mysterious figure jumped with ease over the high railings of a cemetery, landing right in his path. No attack was reported, but the submitted description was disturbing: a muscular man with devilish features including large and pointed ears and nose, and protruding, glowing eyes.
Perhaps the best known of the alleged incidents involving Spring Heeled Jack were the attacks on two teenage girls, Lucy Scales and Jane Alsop. The Alsop report was widely covered by the newspapers.
Jane Alsop reported that on the night of February 19, 1838, she answered the door of her father's house to a man claiming to be a police officer, who told her to bring a light, claiming "we have caught Spring-heeled Jack here in the lane". She brought the person a candle, and noticed that he wore a large cloak. The moment she had handed him the candle, however, he threw off the cloak and "presented a most hideous and frightful appearance", vomiting blue and white flame from his mouth while his eyes resembled "red balls of fire". Miss Alsop reported that he wore a large helmet and that his clothing, which appeared to be very tight-fitting, resembled white oilskin.
Without saying a word he caught hold of her and began tearing her gown with his claws which she was certain were "of some metallic substance". She screamed for help, and managed to get away from him and ran towards the house. He caught her on the steps and tore her neck and arms with his claws. She was rescued by one of her sisters, after which her assailant fled.